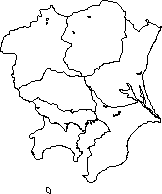 KANTO District-1


Tokyo Pref. (Tokyo), Kanagawa Pref. (Yokohama), Chiba Pref. (Chiba),
Saitama Pref. (Urawa), Gunma Pref. (Maebashi), Tochigi Pref. (Utunomiya), Ibaragi Pref. (MIto)
---
*Weave*
( p. 65 )


1. Produced in Kiryu City, Gunma Prefecture.
2. Characteristics: High quality fabrics woven with softened and dyed silk threads, regarded as elegant cloth having harmony in refinement and the latest fashion. Comfortable to skin and not sticky when worn, but absorbent and shrinkable. The word "Omeshi" is an honorific term meaning "wear", and it came from the 11th Tokugawa Shogunate, Ienari, who loved to wear "Chirimen"(crepe) produced here.
3. Uses: Clothing.
4. History: The history of fabrics in Kiryu is old: the technique is said to have been imported with the old Korean immigrants. A record shows that the fabric was delivered to the Imperial Court as tax in the early Nara Period(710-794). Kiryu was well known as quoted in the phrase "Nishijin in the West and Kiryu in the East." When Nishijin in Kyoto was enjoying a most flourishing production of fabrics, it was destroyed by a calamitous fire in 1720 and many weavers there moved to other districts. Two of them, came to Kiryu, bringing the raised looms and technique of design weaving, and produced "Shima Chirimen"(stripe crepe) which is the origin of "Omeshi Chirimen."
The weaving industry was modernized in the Meiji Era with the introduction of machines and chemical dyes which brought about the production of embroidered crepe and loosely woven crepe. The production reached its height in the Meiji and Taisho Periods. Kiryu today is a center of fabric production, including not only for traditional kimonos but also fabrics for western clothes.

*Weave*
( p.66 )


1. Produced in Isesaki City, Gunma Prefecture.
2. Characteristics: Plain fabrics woven with pre-dyed silk threads, keeping the characteristics of silk. They are woven manually with various techniques using "Kasuri Ito"(ikat thread) ranging from simple splash patterns to more complicated splash patterns.
3. Uses: Clothing, bedding, cloth for "Tanzen"(quilted kimono coat), cushion cloths.
4. History: As a sericultural area, the farm women of Kiryu from olden days have been producing hand woven thick and strong fabrics. It was in the years from Kyoho to Bunsei(1716-1830) when the thick fabrics, woven with silk threads hand spun from waste cocoons were marketed and "Futo Ori" became popular. The Shima Ori(stripe weave) in which "Kasuri Ito" is used to give stripes on the cloth, was first produced in early Meiji Era and given the name of "Meisen"around 1880. Since then, with additional introduction of "Kasuri" techniques, Isesaki Meisen has been taking the lead in the Meisen industry.

*Weave*
( p.66 )
1. Produced in Tatebayashi City, Oragun, Gunma Prefecture
2. Characteristics: Hand woven plain "Kasuri" dyed with wooden patterns. A very popular white ikat as quoted in the phrase "Yamato in the West and Nakano in the East."
3. Uses: Summer male clothing
4. History: Indigo cotton ikat was woven in the late part of the Edo Period(1600-1868) and this white ikat appeared in the late Meiji Period(1868-1912).

*Weave*
( p.67 )


1. Produced in Aramachi Moka City, Mashikomachi Hagagun, Tochigi Prefecture.
2. Characteristics: Cotton fabric, hand woven with hand spun threads and dyed with indigo in the traditional way of "Moka Momen." Two kinds: striped fabric with pre-dyed threads and stencil dyed with indigo. Other colors than indigo are dyed with plant dyes such as "Benibana"(safflower), "Akane"(Rubia akane),"Shikon"(Rithospermum erythrorhyzon) and "Suo"(Caesalpinia sappan).
3. Uses: Everyday clothing, table cloths, "Noren"( shop curtains).
4. History: As cotton was widely planted in Mashiko-Moka area, cotton fabrics were woven in the late Edo Period and marketed as "Moka Momen"(Moka cotten). It was the representative white cotton fabric of the Edo Period. Moka was the center for trading cotton in this area, thus "Moka Cotton."They were delicate and silk like fabrics as cotton was hand spun and hand woven with the influence of "Yuki Tsumugi" pongee produced in Yuki, which is located near Moka. Special spinning wheels were used for producing thin hand spun threads. The production reached its height in the late Edo Period. However, it decreased drastically in the Meiji Period when machine spun cotton was imported and the Nagoya area began producing cotton fabrics. In the early Showa Period there was no production. An association for the maintenance and development of the Moka Momen started in 1986 reviving the tradition with full cooperation of local citizens. "Mashiko Momen" was originated by Hiroshi Higeta, a dyer who inherited 200 years of tradition, in 1960 with the aim of maintaining the tradition of Moka Cotton and indigo dyeing. "Oka Momen" which is used today for summer dishabille, is machine woven cotton, resembling Moka Momen.

Dyeing Method
The indigo used for dyeing is the one produced here or in Awa(Tokushima Prefecture) and lime is added for deoxidizing the water insoluble indigo ball into water soluble.

*Weave*
( p.68 )


1. Produced in Ashikaga City, Tochigi Prefecture.
2. Characteristics: Silk fabric with pre-dyed threads, famous as "Silk Meisen and the combined silk-cotton fabric, called "Bunka Meisen."
3. Uses: Clothing, "Haori" coats, cushion covers, "Tanzen."
4. History: Ashikaga Ginu(silk) was produced in this district in the Heian Period(794-1185) and used for flag cloths in the Muromachi Period(1333-1568). Ashikaga was famous for producing "Meisen" rivaling Isesaki, Chichibu and Hachioji: "Bunka Meisen" was specifically popular. Today tricot, instead of "Meisen" is produced in Ashikaga.

*Weave*
( p.68 )


1. Produced in Yuki City, Ibaraki Prefecture.
2. Characteristics: The best "Tsumugi" fabrics used for clothing, designated as an "Important Intangible Cultural Property. "The silk fabric which is hand spun from the floss is dyed manually so that splash patterns will come out on the fabric after it is woven. They are hand woven in "Jibata"(a loom with no legs) and the designs are small crosses of splash patterns. Warm, light, tough and free from wrinkles, the fabric does not fade or discolor easily, but increases its luster the more frequently it is washed and stretched. This fabric is of such good quality that it is said that "Yuki Tsumugi" should first be worn as a night wear and then used as a going out wear. It takes 10 to 15 days to weave a plain fabric and 30 to 45 days to weave a small patterned fabric for a piece of cloth required for an adult garment (36 cm width and 840 cm length).
3. Uses: Clothing.
4. History: The pongee was well known as "Hitachi Ashiginu"( a fabric woven with thick and rough silk threads) in the Heian Period and as "Hitachi Tsumugi" in the Kamakura Period. In 1602 the name was changed to "Yuki Tsumugi" as it became an item for presenting to the Shogun. After that, weavers from Ueda(Nagano Prefecture) were invited, resulting in an improvement of the quality with the technique used in weaving stripes. The production was a side job for farmers in the middle of the Edo Period.
At first, only the plain and striped fabrics were produced, but the striped "Kasuri" was invented in 1866, the splash patterns made of both warp and weft in 1873 and crepe pongee in the early Taisho Period. The fabric was well known in the old days and quoted in a poem in "Manyoshu"(Ten Thousand Leaves), an anthology of 4,516 poems, compiled in late Nara or early Heian Period, around 800.
I have woven a cloth
With silk threads spun from
New cocoons of Mt. Tsukuba.
Would that it be a pretty costume
Worn by my loved one.

*Weave*
( p.69 )

1. Produced in Chiyokawamura, Ishigemachi Yukigun, Mitsukaido City, Ibaraki Prefecture.
2. Characteristics: Combined weave with cotton as weft and silk as warp. Slightly resembling "Yuki Tsumugi," the fabric is neat, light, a little like crepe, and does not get out of shape.
3. Uses: Clothing
4. History: Cotton fabrics were being woven since the Edo Period as cotton plantations and indigo were popular. The combined weaving was invented in the late Meiji Period and "Ishige Tsumugi," suitable for unlined clothing for summer was produced. Known to pair with "Yuki Tsumugi" in the market, the fabric enjoys a great demand as the cloth for outing and working clothes in early summer and early autumn.

*Weave*
( p.70 )


1. Produced in Yawaramura Tsukubagun, Ibaraki Prefecture.
2. Characteristics: Indigo-dyed, striped cotton fabric. It was first a plain indigo color fabric used for farming clothes. The traditional striped fabric, called "Tozan" was modernized by an indigo research institute. These modernized fabrics are produced today.
3. Uses: Clothing
4. History: Farming clothes are indigo dyed because, it is said, the scent and ingredients of indigo are insect repellent and effective against suppuration.When the cotton plantations were flourishing in this area, farmers spun threads manually from the cotton harvested from their own fields and sent them to dyers in the same area. The research institute is one of the dyers, which successfully maintained indigo dyeing when it faced a crisis from changes in living modes.

Dyeing Method
Threads are dyed by dipping them in the dye vat, pulled out, squeezed and ventilated. When deep color is desired, this process is repeated 17 or 18 times. They are washed in the water once in the middle and once at the end of the process. There are eight different gradations and each of them is given a specific name.

*Weave*
( p.71 )
1. Produced in Choshi City, Chiba Prefecture.
2. Characteristics: Striped cotton crepe with pre-dyed threads, tough and neat. The weft thread is twined and is 5 times stronger than ordinary thread.
3. Uses: Summer clothing
4. History: Cotton crepe was produced in many districts in the middle Edo to the Meiji Period when cotton plantation flourished. Choshi Chijimi is the outcome of "Hazaki Jima" which was born of cotton threads used for fishing nets. After a long period of declining years, a weaver revived the fabric in 1952 and his company has been monopolizing the production.

Last modified:10-December-1997